Tourisme et lutte contre la pauvreté : opportunités et défis
Develop tourism as a tool in the fight against poverty requires first to agree on the meaning of the word poverty and to clarify the political intentions of the project. Reflection on the reduction of poverty through the tourism can be synthesized in three steps: first, the beneficial effects of runoff from tourist revenues in host societies, then the collateral damage resulting from tourism and, finally, to define the conditions necessary to integrate positively tourism project in the host territories. In the end, it is indispensable to develop a proactive policy, because the poorest will not benefit from famous income runoff. Taking into account complex and contradictory impact of international tourism (including inflation, revenue leakage, deconstruction accelerated of local societies), it is necessary to include it in a sustained and coherent territorial project by local communities to identify real benefits.
Concevoir le tourisme comme un outil de lutte contre la pauvreté nécessite en premier lieu de s'entendre sur le sens du mot pauvreté et de clarifier les intentions politiques d'un tel projet. La réflexion sur la réduction de la pauvreté grâce au tourisme peut être synthétisée en trois temps : tout d'abord, les effets bénéfiques du ruissellement des revenus touristiques dans les sociétés d'accueil, ensuite les dommages collatéraux qui résultent du tourisme et, finalement, définir les conditions nécessaires pour intégrer favorablement le projet touristique dans les territoires hôtes. Au final, il apparaît indispensable de développer une politique volontariste, car le fameux ruissellement de revenus ne va pas naturellement profiter aux plus démunis. Compte tenu des impacts complexes et contradictoires du tourisme international (notamment en matière d'inflation, de fuites des revenus, de déstructuration accélérée des sociétés locales), il faut l'inscrire dans un projet d'un territorial cohérent et soutenu par les communautés locales afin de dégager de réels bénéfices.
Fichier principal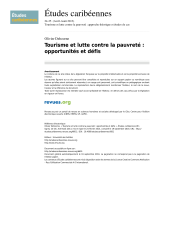 tourisme-et-lutte-contre-la-pauvrete-opportunites-et-defis.pdf (503.05 Ko)
Télécharger le fichier
Origin : Publisher files allowed on an open archive