Transmission culturelle : une réalité vitale humaine et sociale en Martinique ? – Thème et variations
All the societies in the world have a key mechanism through which life is realised, shared and enlarged, where links and inherent connections are woven between individuals and generations: transmission. Through this process, it sets up relations of all kinds. They can be close, or made up relationships. On the other hand, the sharing out can be done to pool what is said, what builds up into heritage, what is passed on to others, passed on from one individual to another, or to a group of people, or from one group to another. The passing on doesn't meaning only when connected with humans and their environment, but also when related to time and the contexts that underlie them. This article is an attempt to grasp the process and challenges of transmission in the Martinique society. How are they apprehended in Martinique? How are they thought out? I am trying to get a better understanding, not only of the process of transmission of practice, but also of the didactic nature that results. I am also concerned with the issues of transmission. I try to understand whether or not, transmission can be formed in Martinique. How can it be done?
Dans toutes les sociétés du monde, un mécanisme essentiel est à l'œuvre permettant l'éclosion de la vie, sa dissémination et son épanouissement, grâce à un entrelacs de liens et de rapports entre individus, entre générations : la transmission (de l'héritage). Par son moyen se tissent des relations de différentes natures, récentes ou bien établies, tout en favorisant un partage et une mise en commun des discours, des biens amassés, des biens transmis, soit de l'individu vers un autre individu, soit de l'individu vers le groupe, soit encore d'un groupe vers un autre groupe. Le présent article cherche à appréhender les mécanismes et les enjeux de la transmission au sein de la société martiniquaise dans sa singularité. Quelle méthodologie, quels concepts, quelles actions mettre en œuvre pour cela ? L'un des principaux objectifs est de définir les paramètres qui décrivent ce qu'est l'homme martiniquais considéré dans son contexte sociétal et historique. Ce préalable permettra d'analyser non seulement le processus de la transmission, mais aussi ses dynamiques profondes.
Fichier principal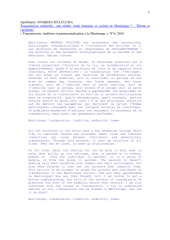 Transmission culturelle en Martinique Anakesa.pdf (496.81 Ko)
Télécharger le fichier
Origin : Files produced by the author(s)