Du fait gestuel à l'empreinte sonore
Musical gesture is one of the complex phenomena of human and animal expression, which is the result of diverse and varied synchronous reactions. Indeed, the multiple observations and experiences make me believe that, in the universe, infinite processes of injunction and reciprocal reaction play between different existing things. Through this operation, living beings - in particular man and animal - receive, record and, as far as possible, replay the ambient real. So do they mirror interactions of a given reality or simply echo them. In the framework of this article, I try treat how to seek the root and the creative act of a musical gesture on the one hand, to understand its mechanism or its functionality on the other hand, form the problematic. To do this, I composed the following melody, which I first sung, then played on the piano and the violin, the goal being to experiment conscientiously with the sounds and gestures used to play the sounds.
Le geste musical est l'un des phénomènes complexes de l'expression humaine et animalière, qui relève de réactions synchrones diverses et variées. En effet, mille observations et expériences me font croire que, dans l'univers, d'infinis processus d'injonction et de réaction réciproques jouent entre différentes choses existantes. A travers cette opération, les êtres vivants – en particulier l'homme et l'animal – reçoivent, enregistrent et, dans la mesure du possible, rejouent le réel ambiant. Ainsi se font-ils miroir d'interactions d'une réalité donnée ou simplement leur font-ils écho. Dans le cadre de cet article, rechercher la racine et l'acte créateur d'un geste musical d'une part, comprendre son mécanisme ou sa fonctionnalité d'autre part, forment la problématique que je tente de traiter. Pour ce faire, je me suis composé la mélodie qui suit, laquelle j'ai d'abord chantée, puis jouée au piano et au violon, le but étant d'expérimenter consciencieusement les sons et les gestes mis en œuvre pour le jeu des sons musicaux.
Fichier principal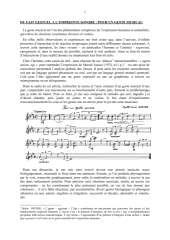 LE GESTE MUSICALc.pdf (431.15 Ko)
Télécharger le fichier
Origin : Files produced by the author(s)