Global Pandemic and Local Inequalities: Political, Economic and Social Implosion in Mexico
Pandemia global y desigualdades locales: implosión política, económica y social en México
Pandémie mondiale et inégalités locales : implosion politique, économique et sociale au Mexique
The objective of this article is to analyze and determine the consequences of the health pandemic in the context of worsening inequalities. For this research, we follow the literature on inequalities, mobility, elites and democracy that has identified the consequences of COVID-19 in political, economic and social life in Mexico. By intertwining these three variables, we show how a sanitary crisis is revealing, amplifying, making visible and creating new inequalities. We also show that the burdens with which Mexico arrives will be aggravated by the pandemic. We note that the elites should play a more central role in contributing to the reduction of socio-economic gaps and, above all, understand that perception is not always reality. Then, we note that pandemic working conditions have already revealed new inequalities by exemplifying it with data showing that remote work is a privilege of minorities. This paper contributes to the state of the literature on COVID-19, Mexico and inequalities by seeking to understand how a pandemic heterogeneously affects the world, its societies and especially the different socio-economic strata.
Este articulo tiene como objetivo analizar y determinar las consecuencias que provoca(rá) la pandemia sanitaria en pleno contexto de agravamiento de desigualdades. Para esta investigación, seguimos la literatura sobre desigualdades, movilidad, elites y democracia que ha identificado las consecuencias de la COVID-19 tanto en la vida política, económica y social en México. Mediante el entrecruzamiento dichas tres variables mostramos como una crisis sanitaria está revelando, ampliando, visibilizando y creando nuevas desigualdades. Asimismo, evidenciamos que los lastres con que llega México se verán agravados por la pandemia. Observamos que las elites deberían tener un rol más central para la contribuir a la reducción de brechas socio-económicas y sobre todo entender que la percepción no es siempre la realidad. Luego, damos cuenta de que las condiciones laborales pandémicas ya revelaron las nuevas desigualdades al ejemplificarlo con los datos que dan muestre que el tele-trabajo es un privilegio de minorías. Este trabajo abona en el estado de la literatura sobre COVID-19, México y desigualdades al buscar entender como una pandemia afecta de manera heterogénea al mundo, a sus sociedades y sobre todo a los distintos estratos socio-económicos.
Cet article vise à analyser et à déterminer les conséquences de la pandémie sanitaire dans le contexte de l'aggravation des inégalités. Pour cette recherche, nous suivons la littérature sur les inégalités, la mobilité, les élites et la démocratie qui a identifié les conséquences de la COVID-19 dans la vie politique, économique et sociale au Mexique. En croisant ces trois variables, nous montrons comment une crise sanitaire révèle, amplifie, rend visible et crée de nouvelles inégalités. Nous montrons également que les charges avec lesquelles arrive le Mexique seront aggravées par la pandémie. Nous constatons que les élites devraient jouer un rôle plus central pour contribuer à la réduction des écarts socio-économiques et surtout comprendre que la perception n'est pas toujours la réalité. Ensuite, on se rend compte que les conditions de travail de la pandémie ont déjà révélé les nouvelles inégalités. Cela est illustré par des données montrant que le télétravail est un privilège des minorités. Ce document contribue à l'état de la littérature sur la COVID-19, le Mexique et les inégalités en cherchant à comprendre comment une pandémie affecte le monde, ses sociétés et surtout les différentes couches socio-économiques de manière hétérogène.
Fichier principal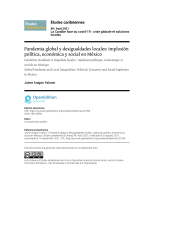 15 Pandemia global y desigualdades locales: implosión política, económica y social en México.pdf (314.58 Ko)
Télécharger le fichier
Origin : Publisher files allowed on an open archive