Origin and evolutionary potential of floral variation in Delphinium L. (Ranunculaceae) using morphology, anatomy and teratology.
Etude sur l'origine et l'évolution des variations florales chez Delphinium L. (Ranunculaceae) à travers la morphologie, l'anatomie et la tératologie.
In the evolution of seed plants, flowering plants are characterized by an especially rapid, partly due to the emergence of the floral structure. The study of teratological phenotypes is an interesting tool to better understand the origin and maintenance of floral innovations. The genus Delphinium L. belongs to the family Ranunculaceae, one of the earliest-diverging families among Eudicots and characterized by an outstanding floral.First, we carried out phylogenetic, morphological, anatomical and palynological studies of Delphinium turcicum (H.Duman, Vural, Aytac & Adiguzel) Espinosa, a Turkish endemic species known for more than 20 years in the wild and presenting unusual floral features. This study allowed us to understand the organization of the flower of this species, as well as to characterize the deviations to the typical morphology (modification of symmetry, of the type of organs composing the perianth and of the spur development). Changes in floral organ development, possibly related to changes in the expression of genes involved in floral identity, are responsible for this particular phenotype. Second, I carried out a morphological-anatomical study of cultivars (organisms with major floral variations resulting from artificial selection) of the genera Delphinium L. and Aquilegia L. (the latter belongs to Ranunculaceae and has been proposed as model genus for evo-devo studies). This study allowed me to identify the crucial stages of floral development where morphological variations take place. In both genera, floral symmetry and phyllotaxis were found to be conserved, while flower arrangement and vascularization were altered with respect to the typical flower morphology. Most morphological and anatomical deviations affect the perianth, especially on the number and identity of the organs. We hypothesized that the floral phenotypes of the cultivars of Delphinium L. and Aquilegia L. result from genetic alterations affecting meristem size, boundaries between sets of organs of different identity, organogenesis and development of nectariferous structures. Third, a historical research on the taxonomy of the genus Delphinium L. highlighted the taxonomical ambiguities induced by the floral morphological variations recorded within the genus. The inclusion of the species Delphinium turcicum implies amending the genus description in order to include the floral features of the species.This thesis, through the study of a wild species and of varieties undergoing artificial selection, allowed to highlight the crucial developmental stages during which the morphological floral variations take place, as well as to target the genes possibly responsible for these variations. These results will guide future evo-devo studies aiming at understanding floral evolution within angiosperms, and better understand the evolution of angiosperms as a whole.
Les plantes à fleurs se caractérisent par une diversification rapide au cours de l'évolution des plantes à graines, en partie grâce à l'émergence de la structure florale. L'étude des phénotypes tératologiques se présente comme un outil important pour mieux comprendre l'apparition et le maintien des innovations florales. Le genre Delphinium L. appartient à la famille des Ranunculaceae, une des premières familles ayant divergé parmi les Eudicotylédones (clade le plus diversifié au sein des Angiospermes) et présentant une grande diversité florale.Dans un premier temps, nous avons réalisé une étude phylogénétique, morpho-anatomique et pollinique de l'espèce Delphinium turcicum (H.Duman, Vural, Aytac & Adiguzel) Espinosa, espèce endémique turque connue depuis plus de 20 ans dans la nature et présentant des déviations par rapport à la fleur typique du genre Delphinium. Cette étude nous a permis de comprendre l'organisation de la fleur de cette espèce ainsi que de mettre en évidence des modifications de symétrie, du type d'organes formant le périanthe, et du développement des éperons. Des anomalies dans le développement des organes floraux, potentiellement liées à des modifications dans l'expression des gènes responsables de l'établissement de l'identité florale, sont à l'origine de ce phénotype particulier. Dans un deuxième temps, nous avons réalisé une étude de la morpho-anatomie florale de cultivars, organismes présentant des variations florales importantes issues d'une sélection artificielle, des genres Delphinium L. et Aquilegia L. (ce dernier appartenant également aux Ranunculaceae et un des genres modèles pour les études évo-dévo). Cette étude nous a permis d'identifier les étapes cruciales du développement floral pendant lesquelles ces variations prennent place. Chez les deux genres nous avons trouvé que la symétrie florale et la phyllotaxie sont conservées, tandis que l'organisation florale et la vascularisation de la fleur sont modifiées par rapport à la morphologie des fleurs typiques. La plupart des déviations morphologiques et anatomiques se situent au niveau du périanthe, et concernent notamment le nombre et l'identité des organes qui le forment. Nous avons émis l'hypothèse que les phénotypes floraux des cultivars d'Aquilegia L. et Delphinium L. résultent d'altérations génétiques affectant la taille du méristème, les frontières entre les organes d'identité différente, l'organogenèse et le développement des structures nectarifères. Dans un troisième temps, une recherche historique sur la taxonomie du genre Delphinium L. a permis de mettre en évidence les possibles ambiguïtés induites par les variations florales au sein du genre. L'inclusion de l'espèce D. turcicum dans le genre Delphinium requiert d'amender la description du genre afin d'inclure les particularités florales de l'espèce.Cete thèse permet de mettre en évidence les étapes cruciales du développement pendant lesquelles les variations morphologiques prennent place, ainsi que de viser les gènes potentiellement à l'origine de ces variations chez une espèce sauvage et chez des variétés issues d'une sélection artificielle. Ces nouvelles informations permettront d'orienter des études en évo-dévo visant la compréhension de l'évolution florale au sein des Angiospermes.
Fichier principal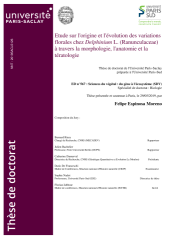 78171_ESPINOSA_MORENO_2019_archivage.pdf (8.73 Mo)
Télécharger le fichier
Origin : Version validated by the jury (STAR)