The discursive and political use of sustainable development in the Caribbean.
La mise en discours et en politique du développement durable dans l'espace caraïbe
This paper reports the first outcomes of a research program "Environment and Sustainable Development in the Caribbean space" co-funded by the European Union, the Région Martinique and the Université des Antilles et de la Guyane under the European Union operational programme 2007-2013. Since the middle of the last century, the Caribbean countries, regardless of their great diversity and political fragmentation, are faced with the recurring problem of development. Having explored different paths, they are looking now for new development models. This challenge which becomes obsessive over the decades, is now a major concern: indeed, the Caribbean territories are per se vulnerable and highly exposed to natural risks due to climate change. In addition, this relates to areas where tensions between exploitation and conservation of a rich biodiversity are particularly strong. Based on the promotion of tourism and services as part of an "open regionalism" at the intersection of global and local scales of public action, the current development strategies give rise to a dual approach with, however, rather mixed results: on the one hand, a discursive use of sustainable development, apprehended through its environmental dimension, evidences a new way of looking at the region and a change in the way the region sees itself; on the other hand, a political use of sustainable development through cross-cutting policies, is hindered by the complexity of structures, the multiple levels of action and regulation, and the difficult appropriation of public-policy organization by local communities and people.
Cet article rend compte des premiers résultats d'un programme de recherche « Environnement et développement durable dans l'espace caraïbe » cofinancé par l'Union européenne, la région Martinique et l'Université des Antilles et de la Guyane dans le cadre des programmes opérationnels européens 2007-2013. Il montre que les territoires de la Caraïbe, après avoir exploré plusieurs voies en matière de développement, privilégient désormais des stratégies axées sur le tourisme et les services. S'inscrivant dans un « régionalisme ouvert » au croisement des échelles globale et locale d'intervention en matière d'action publique, ces stratégies débouchent sur une double démarche aux résultats contrastés : d'un côté, une mise en discours du développement durable, appréhendé notamment à travers sa dimension environnementale, témoigne d'un changement de regard sur la région et de celle-ci sur elle-même ; de l'autre, une mise en politique du développement durable à travers des dispositifs à caractère transversal, se heurte à la complexité des structures, à la multiplicité des échelles d'intervention et de régulation ainsi qu'à la difficile appropriation desdits dispositifs par les populations locales.
Fichier principal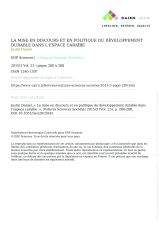 NSS_La mise en discours.pdf (1.14 Mo)
Télécharger le fichier
Origin : Publisher files allowed on an open archive