"Dionne Brand et l'archéologie canadienne d'un canon caribéen dans Land to Light On"
In 1997, Dionne Brand published a long poem in verse entitled A Land to Light On. In the volume, the Trinidadian-born poet wonders about the relevance of a post-communist revolutionary discourse at the century's end. Brand's poem also raises the question of geographic affiliation: a disenchanted Antillean-born character, living in Toronto, meditates about the appropriation of Ontarian landscapes and meditates upon the creation of a new revolutionary discourse. In this regard, the setting intends to be contrapuntal: disillusioned by the state of the world and depressed by the Canadian racism, the narrator interrogates the works of distinguished Caribbean revolutionary figures. Among these political thinkers, the names of Frantz Fanon and C.L.R James appear in the text. Moreover, even if the poets Aimé Césaire and Derek Walcott are not mentioned, their works also occupy a prominent place. So Land to Light On investigates these two Caribbean registers – the politics and the poetics - as well as two relevant areas: the Canadian's colonial history and the Grenadian's communist history. In so doing, Brand institutes a Caribbean literary canon. This pan-Caribbean interplay is ultimately counterbalanced by the use of a polyglossic language based on Brand's native Caribbean-English.
Dans son long poème en vers, Land to Light On, publié en 1997, Dionne Brand s'interroge sur la pertinence d'un discours révolutionnaire dans une fin de siècle marquée par l'effondrement du bloc socialiste. Naviguant entre retour imaginaire en Caraïbe et appropriation des paysages du Grand Nord ontarien, une voix poétique désabusée pose la question de l'affiliation du citoyen canadien d'origine antillaise et de la construction d'une langue révolutionnaire renouvelée. Le poème propose alors une mise en scène contrapuntique : déçue par l'état du monde et blessée par le racisme canadien, la narratrice interroge les travaux de grandes figures révolutionnaires caribéennes. Parmi celles-ci, les noms des théoriciens Frantz Fanon et C.L.R James apparaissent dans le poème et leurs thèses sont discutées. Même si les poètes Aimé Césaire et Derek Walcott, eux, ne sont pas cités, leurs œuvres occupent également une place capitale dans Land to Light On. Dans ce cadre, Brand investit les deux registres antillais - le politique et le poétique – qu'elle confronte à deux histoires particulièrement signifiantes : l'histoire coloniale canadienne et celle de l'épisode communiste dans l'île de Grenade. Avec ces dialogues, la poétesse inaugure un véritable « canon » caribéen. Enfin, le jeu intertextuel pan-antillais du poème se nourrit d'une langue polyglossique impliquant le Caribbean-English de l'enfance trinidadienne de Brand.
Fichier principal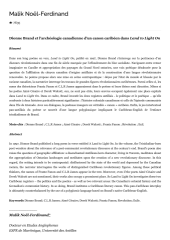 Dionne Brand et l'archéologie canadienn...iplinaire de Travaux sur les Amériques.pdf (740.28 Ko)
Télécharger le fichier
Origin : Files produced by the author(s)