Simulations in Models of Preference Aggregation
Social choice theory provides a theoretical framework for analyzing how to combine individual opinions, preferences, interests or welfare so as to reach a collective decision. Social choice theory is one of the areas in economics that has seen a boom in simulations work using models based on the behavior of individuals involved in collective decision-making. The purpose of this paper is to oer to the uninitiated reader a methodological presentation of these dierent models, as well as the techniques for theoretical calculations and simulations, and then to report on recent developments concerning new models and advances in calculation techniques and simulations. This paper will thus give readers easy access to the models which, due to their complexity, might seem to be reserved for initiates. We take the opportunity to present and discuss the assumptions that support each of the models, and indicate how simulations may be helpful in analyzing complex problems in social choice theory.
La théorie du choix social offre un cadre théorique pour analyser comment combiner des opinions, des préférences, des intérêts ou bien-être individuels afin de prendre une décision collective. La théorie du choix social est l'un des domaines de l'économie qui a connu un essor des travaux autour des simulations à partir de modèles basés sur le comportement des individus impliqués dans la prise de décision collective. L'objectif de cet article est d'offrir au lecteur non initié une présentation méthodologique de ces différents modèles, ainsi que des techniques de calculs théoriques et de simulations, puis de rendre compte des développements récents concernant les nouveaux modèles et des avancées en matière de techniques de calcul et de simulations. Cet article donnera ainsi aux lecteurs un accès facile aux modèles qui, en raison de leur complexité, peuvent sembler réservés aux initiés. Nous en profitons pour présenter et discuter des hypothèses qui sous-tendent chacun des modèles et indiquer comment les simulations peuvent être utiles pour analyser des problèmes complexes de la théorie du choix social.
Fichier principal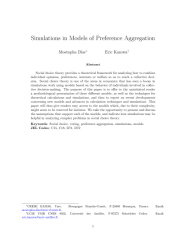 Diss-Kamwa-20-12-2019.pdf (459.89 Ko)
Télécharger le fichier
Origin : Files produced by the author(s)