Analysis of Business Elite Networks and Revolving Doors in Mexico: Cartography of a Public-Private Ruling Class
Análisis de redes empresariales y puertas giratorias en México: Cartografía de una clase dominante público-privada
This research maps the business and political elite networks in Mexico to understand the social organization and influence capacity of Mexican elites, and to open up avenues of research on power elites in Mexico. First, a study of the internal cohesion of the business elites is carried out through an analysis of networks of interlocking directorates and ownership ties. Secondly, we examine several cases of revolving doors through a prosopographic analysis of biographies and trajectories. The results reveal that the Mexican business elites are cohesive and that a group of individuals fluctuate between the public and private sectors. In addition, the combination of both analyses shows that corporations or business groups with access to the State via revolving doors are well-connected firms in the network of interlocking directorates. Findings suggest the emergence of a public- private ruling class in Mexico.
La presente investigación mapea las redes de las élites empresariales y políticas en México para comprender la organización social y la capacidad de influencia de las élites mexicanas, y abrir vías de investigación sobre las élites de poder en México. En primer lugar, se realiza un estudio de la cohesión interna de las élites empresaria- les mediante un análisis de redes de interlocking directorates y enlaces de propiedad. En segundo lugar, se examinan varios casos de puertas giratorias mediante un análisis prosopográfico de biografías y trayectorias. Los resultados revelan que las élites empresariales mexicanas están cohesionadas y que existe un grupo de individuos que fluctúan entre el sector público y el priva- do. Además, la combinación de ambos análisis muestra que las empresas o grupos económicos con acceso al Estado vía puertas giratorias son empresas bien conectadas en la red de inter- locking directorates. Estos resultados sugieren la emergencia de una clase dominante público- privada en México.
Cette recherche cartographie les réseaux des élites commerciales et politiques au Mexique afin de comprendre l'organisation sociale et la capacité d'influence des élites mexicaines, et d'ouvrir des pistes de recherche sur les élites du pouvoir au Mexique. Tout d'abord, une étude de la cohésion interne des élites économiques est réalisée à travers une analyse des réseaux de directeurs et des liens de propriété. Ensuite, plusieurs cas de portes tournantes sont examinés à travers une analyse propographique des biographies et des trajectoires. Les résultats révèlent que les élites commerciales mexicaines sont cohésives et qu'il existe un groupe d'individus qui fluctue entre les secteurs public et privé. En outre, la combinaison des deux analyses montre que les entreprises ou les groupes économiques ayant accès à l'État par des portes tournantes sont des entreprises bien connectées dans le réseau des directeurs de l'emboîtement. Ces résultats suggèrent l'émergence d'une classe dirigeante public-privé au Mexique.
Fichier principal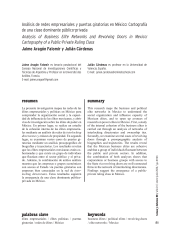 7 JARAGON & JCARDENAS Analisis de redes empresariales y puertas giratorias en México.pdf (911.43 Ko)
Télécharger le fichier
Origin : Publisher files allowed on an open archive