Phylogenetic tests of evolutionary scenarios in interdisciplinary studies: improving the protocol design
In evolutionary biology, phylogenetic trees serve to study a multitude of evolutionary questions, a practice commonly refered to "phylogenetic tests of evolutionary scenarios". These tests, to be as convincing as possible, must rely on clear hypotheses, robust phylogenetic trees and sound protocols (i.e. the phylogenetic design). Although known and obvious, these conditions are not always satisfied because phylogenetics was not initially developed in the rich context it thrives in now. My research agenda aims at meeting these conditions when testing evolutionary questions, from classification issues or social behaviour evolution to the tempo of diversification of organisms and their adaptations. I try to craft phylogenetic tests as carefully as possible, paying special attention to taxonomic sampling and character delimitation. I also engage in interdisciplinary studies, challenging and rewarding enterprises, that may require methodological developments to satisfy the foundations of each discipline involved.
En biologie de l'évolution, les arbres phylogénétiques sont utilisés pour répondre à d'innombrables questionnements; on parle alors de tests phylogénétiques de scénario d'évolution. Ces tests sont d'autant plus convaincants qu'ils reposent sur des hypothèses clairement formulées, des phylogénies robustes et de solides protocoles expérimentaux (i.e. phylogenetic design). Bien qu'évidentes et connues, ces conditions ne sont pas toujours respectées, la discipline phylogénétique n'ayant pas été initialement développée dans un contexte aussi riche et varié que celui dans lequel elle est utilisée aujourd'hui. Mon programme de recherche vise à respecter chacune de ces conditions lors de tests de scénario d'évolution, portant aussi bien sur la classification des êtres vivants, l'évolution du comportement social, ou bien la dynamique de diversification des organismes et leurs adaptations. J'essaie d'élaborer des tests phylogénétiques aussi soigneusement que possible, en insistant sur les étapes d'échantillonnage et de délimitation des caractères. Je développe également des études interdisciplinaires, défis stimulants et enrichissants, qui nécessitent parfois de développer de nouvelles méthodes respectant les fondements de chacune des disciplines impliquées.
Fichier principal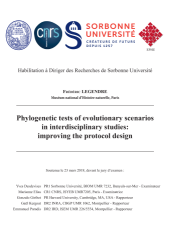 HDR_Legendre_HAL.pdf (7.03 Mo)
Télécharger le fichier
Origin : Files produced by the author(s)